January 25 is Burns Day.
(I'm having an event on January 27th! See below)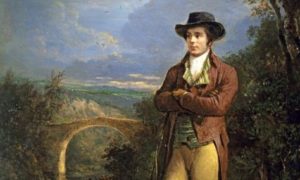 What's that, you ask?
It is the birthday of Robert Burns, widely considered to be Scotland's national poet. He lived from 1759 to 1796, leading a short life full of struggle, defiance, humility, lust, and heartbrokenness.
He wrote poems and songs, collected folk songs from across Scotland, satirized great figures of the day, wooed many a woman to his bed, and called for radical parliamentary reform when that movement was pushing forward in 1792-4.
Burns developed this radical zeal starting with his poor childhood as a tenant farming family in Ayrshire. His poor health–a heart ailment and then a rheumatic condition–no doubt came from poor living conditions as his family struggled to survive.
His best-known poem around the world is Auld Lyne Syne, which everyone sings in a drunken haze on New Year's Eve.
Another famous folk song traces its lineage back to Burns: A Man's A Man.  It was composed at a moment when the fight for reform had to go underground. Its words are stubbornly hopeful for a brotherhood of equality:
It's comin' yet for a' that, / That Man to Man the warld o'er / Shall brithers be for a' that.
Furthermore, when the Scottish Parliament was recently reconvened for the first time since 1707, this was the song that was sung. So moving. I sang it at my December event in SLO, and was so happy people decided to join in!
When Burns died in 1796, the Romantic movement took up his poems as anthems in Scotland and beyond. In the early 1800s, a curious tradition started: the Burns Supper, where people got together to remember the poet, and generally have a good time.
This year, I am getting involved in All The Happenings, but YOU can come join the fun at Backstory Books on Saturday, Jan. 27th. I will be hosting a book chat there, singing songs, and would love to have you come bear witness to Burns' legacy as lover, fighter, champion of the poor, and speaker of Truth.
Backstory Books
6010 SE Foster Rd.
Sat. 1/27 130-3PM
Please RSVP on Facebook! :)
We can also celebrate the returning of the Light…and prepare for Imbolc! #celticyear
Images via Annemarielatour, JackiKellum, & Singingthesonginmyheart