Thank you to all the wonderful Readers who came out for the NW Book Festival!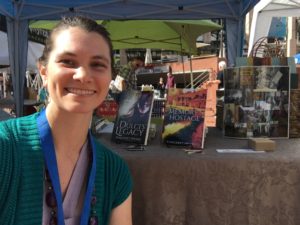 It was a BEAUTIFUL sunny DAY, as you can see, and I got to talk to many lovely book-lovers 🙂 Topics included:
the Europeans' love of Harleys
the propogandist nature of Stevenson's Kidnapped
the several causes of waves of Highland Clearances
the difference between fantasy and 'modern fairy tale'
and of course: HOW SMALL A WORLD IS PORTLAND!
There were a lot of great new covers that I saw, and I'm looking forward to catching up on all the other writers I met.
But the exciting thing for YOU ALL is the result of the drawing for the $30 gift card to Another Read Through bookshop. I am happy to report that Ali MacLean of Vancouver, WA has won!
Thank you again to everyone who came out and enjoyed the sunshine with us local authors. You sprinkle our work with excitement. 🙂
And on a completely different subject: RESEARCH!
I finally received two hard-to-find tomes from my Interlibrary Loan service, and my rewrite is picking up as I pour over them.
First up is Pictou County's History  (1972). I am loving the details, the organization, and the anecdotes:
"[The Harriet's] owner, William Lowden, Master Mariner, a Scotsman who lived fifteen years in Russia before coming to Pictou…"

"A master workman's tools were a square, a carpenter's broad axe, a one and one-quarter inch chisel, a saw, a pin mall, and an adze…"

"In the beginning, Gaelic preaching and praise were given priority in the Kirk and English in the Secession churches…"

"…[religious] bigotry was an aspect of the white man's civilization that the Indians, as with white man's diseases, could have done without."
What, these don't stir your blood and make you want to jump into a chair and start writing?!?
Well, we have been called a savage breed…
"…writers are a savage breed, Mr. Strike. If you want life-long friendship and selfless camaraderie, join the army and learn to kill. If you want a lifetime of temporary alliances with peers who will glory in your every failure, write novels."