We are halfway through!
And as I write, we are halfway between Pi Day ? and St Patrick's Day☘️, both important celebrations for my household. And this year, extra special BECAUSE…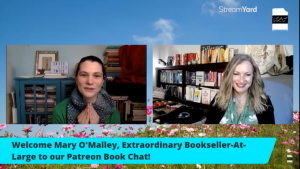 I had an absolutely wonderful conversation with Free-range Bookseller-At-Large Mary Webber O'Malley on Sunday, Pi Day, check it out here. Our topic was how we judge people based on their reading, in some specific ways that have been discussed all across Booktube…
And I WILL have another great buddy read discussion on St. Patrick's Day! I'll be discussing a play by an Irish playwright as well: Playboy of the Western World by J. M. Synge. Lana from Lana ExLibris and I will be chatting on Youtube (check us out here) on Wed at 10 AM PDT. Lana is a bona fide actress and studied Synge's play Riders to the Sea in school, so I bet she'll have a lot of light to shed on the themes of this rural Ireland, sparse-set, 'comickal-tragickal' sort of work. ;D
 And we had our first March of the Moderns buddy read last Friday, which was SO much fun! Toni, Marissa and I read Precious Bane by Mary Webb (no relation to Mary Webber O'Malley) and all found delight in the story and style. I think I loved it the most of all of us??? You can find that discussion here.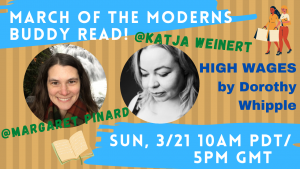 And to pin back to the future, next Sunday will see me chatting with Katja Weinert on Youtube about High Wages by Dorothy Whipple. This is a novel about a woman moving up in the world during changing times for women's roles in business. Also, Dorothy Whipple is a Persephone favorite, and as the OG inspiration for March of the Moderns, I am loving diving into her style. Already in the first two chapters, I am grinning ear-to-ear and have to grab for my sticky-tabs!
So we are going gangbusters for the month of March and our Modern readathon. How about you, readers? What's been on your radar? What kind of books are drawing your interest as we hit Year 1 Anniversary of this Global Pentatonic?