One of my saints died this weekend.
Not a canonized saint, obviously, as those have to die long before being proclaimed a saint.
But if you're familiar with Barbara Sher's book, Wishcraft, you'll know what I mean. If you're not, a saint is one of those people whose photo you pin to the wall above your writing desk, whose image you hold in your head as inspiration for the path you're following. Or the trail you're blazing. Like Katherine Hepburn. Or Oscar Wilde. Or Rosa Parks.
Ginny did that for me. She represented someone admirable who'd fought the odds, someone who was a leader who went her own way, someone who knew her own needs and wasn't afraid to communicate them.
She was the young-talking, vivacious, pie-making saint of my wall.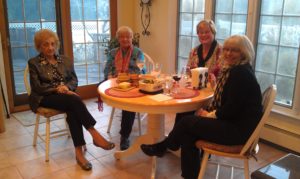 Ginny knew me all my life, but I only got to know her in the last few years of hers. I was marooned on the east coast, my plans gone awry, my sense of direction gone astray, and something of her spark, seen during the Thanksgiving holidays I took with less-immediate family members (but no less dear), appealed to me.
Especially in the last couple of years, when I had figured out that I did not want to pursue the 9-5 lifestyle, the corporate ladder, the social success model, I found out about what she'd been doing in her younger years, her 20s and early 30s. Traveling around the country in her car, with her dog, stopping when she felt like it, working when she had to, and learning more about what she loved.
If someone in my own family had done that, I could do it, I thought. It was like turning a key and opening a door. All my self-questioning and soul-searching now had a direction to turn: outward, with the intention of experimenting, and finding what I liked to do, and doing it. Nevermind outdated expectations. It was my life; why the hell shouldn't I live it?
After a few Thanksgivings, and a lot of growth on my own, I got to visit Ginny in her little 1-bedroom house in upstate New York. Far from the madding crowd, indeed. Conversations with her were mulled over on two long road trips, once to Vermont and once to Nova Scotia, as I drove on my own, often silent and my mind turning things over like a walnut-crusher. She was one of the first people I knew I wanted to read my manuscript, my first effort at striking out on my own. And she did get to read it, in her last few weeks.
I had planned on writing her a letter once a week while she was sick, including details of how new life was progressing for me here in Portland, anecdotes to make her laugh and buoy her spirits during the chemo. I thought I would be writing a lot of letters. In the end it was only three, since I started a week after I heard, and she died on the day I was to write.
In our last conversation, by phone after she had got her diagnosis, she told me I was one of her two regrets. She had lived life as she saw it, done everything she wanted, but she wished she could have lived longer, in order to see what would happen with her stepdaughter, who'd just gotten married, and me, who'd just sailed out on my own adventure. A little late, but never too late, right, Ginny?
She died Friday morning, I was told, and a curious thing happened here in Portland, OR. About the same time, a tree branch as large as a tree cracked and fell in the street across from my apartment building. It was so big that it caved in a zipcar, took off part of a roof, and dragged down a power line, showering the corner with sparks for a moment. I was writing at the time and heard first the boom of the crack, then my lights went out. I went to the window in time to see the sparks from the line erupt for a moment then go still.
I didn't know until later in the day that Ginny was gone, but I like to think that was her soul swooping by to say farewell.
I'm not sure why I wrote this, as a memorial, perhaps. But I send it to you dear friends who know a little of my changed path to share how I'm feeling, how short life is, and how important it is to go after what we want. Don't settle for anything less than what you were meant to be. And if the lesson comes a little late, don't worry. If it comes, it's not too late.