***Pssst! The sequel to The Keening is coming out soon! Sign up for the newsletter to hear about giveaways and events related to the release in the next few months!***
It has been a whirlwind month, ladies and gentlemen.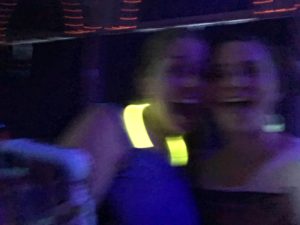 Between June 17 and July 17, there was 90s Night in the Ballroom, friend visit from Japan, attending the HNS Conference, Karaoke Night, Mom visit, trip TO Japan, brother's wedding, friend visit from NYC, friend visit from Alabama…
…plus, weekly critique group meetings, three jobs, final edits before handing over my manuscript, weekly writer dates with this talented lady, and the weekly cleaning I do for a yoga studio in return for the one class I can attend per week.
It's time for some trimming, yes.
But all this whirligig got me thinking…which parts of my life are personal, and which professional?
The singing and dancing bits I can call personal, as well as the friend visits. And the jobs I can label professional, while the critique group and writer dates are plainly both.
But the conference for the Historical Novel Society wound the two strands together like a Susanna Kearsley story. I prepared to network, I kept my energy up to make an impression on others and engage with them on their own projects, and I took copious notes during the sessions I attended.
Some of the connections were cursory, but I thanked them for the chance to talk. Others were longer conversations or better chemistry: "OMG, you write about THAT?! That's So AHMAZING!!" And these people I am excited to cultivate an acquaintance with.
For a writer, I think the professional can become very personal, and the personal inevitably becomes part of the professional. Wouldn't you agree?
When I spend time to research authors, read their work, note what they do well, give them honest praise, and warmly greet them, that is an immense expense of energy. If I don't get the courtesy back, if the person is terrible with fans, then I can analyze my actions and determine to find a better object next time. But I also feel a little bit of failure personally, to be so rebuffed.
The professional can also become personal when one simply becomes friends with professional contacts, see Exhibit C: the visitor from Alabama. He was an engineer on a project I worked on five years ago. We reminisced about a colleague's ability to mask a hangover so well it was undetectable. I no longer have anything to say about the energy planning needs of the eastern U.S., but that experience forged a link, one that still holds us together in friendship and support. Maybe I'll get a few new readers in Alabama! 🙂
And what about the other way around? Well, this one is more familiar for writers. Everything you go through as a writer ends up influencing what and how you write. Beyond childhood trauma and MFA program grooming, there is the Why. And there is the taste you have cultivated, influenced by all the media you've consumed since birth, and what people of influence told you about it.
The personal engine of personality spins all that around and expresses ideas creatively that contain opinions and prejudices, quests and rejections. I had a funny moment when I looked back at Dulci's Legacy and realized, "Oh."
It's a story about a girl lost in the past who needs to free herself and others from injustice to get back to her life.
Huh.
And just like that, you realize how your personal life spills over into your professional body of work.
Have you had similar experiences? Do share in the comments!