Storm Wrack & Spindrift is available as an ebook and in paperback format below.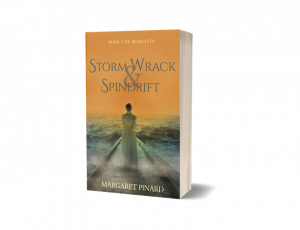 "The Ridge, the MacLean family homestead, is a character in itself, as each member of the family interacts with its various locations. However, the story broadens to a tale of two places when, as with us all, there comes a time of separation. Anger, denial, bargaining–separation can bring up the same turbulent emotions as death; and Margaret Pinard's beautifully written story shows how a strong and loving family weathers many storms." –an Amazon review
The MacLeans have suffered being thrown off their land, emigrating to the New World, surviving in the forest wilderness, and losing their father Gillan in a bizarre murder.
Now, ten years later, the two youngest emigrants will split the family across an ocean.
Sheena pursues a future back in Scotland with her husband Gordon Lamont. Alisdair dreams of university and a chance to reform the political system in the colony that denied him justice for his father's death.
But the British Empire of the 1830s has yet more obstacles to throw in their path. When the only school in the province only accepts Anglican students, what will Alisdair do? When Sheena finds herself in a role of authority over families like her own, how will she cope with the isolation?
And when both their hopes of peace and stability are dealt a telling blow, how will they stay true to their fighting spirit?
STORM WRACK & SPINDRIFT is a dramatic story of family survival and personal struggle set against social upheaval. While voter enfranchisement was advancing in London, and slavery finally outlawed in the Empire, the tiny stage of rebellion in a backwoods colony farm could still have deep repercussions. Every life is precious, every decision important–which is why the early struggle for Responsible Government and other civil liberties continues to encourage us today.
Buy the ebook Buy the paperback