Hi y'all.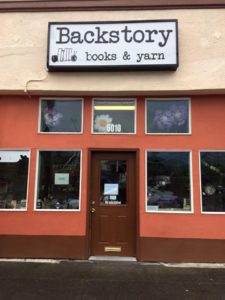 It may seem like I've done a disappearing act, but there have been a couple big posts over on my personal development blog, Taste Life Twice, and feverish activity on the editing and event fronts, here in Portland!
Next up is something unique, for a unique bookstore: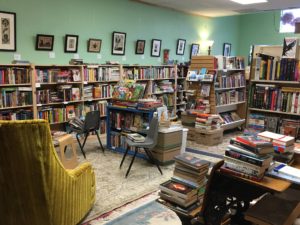 Backstory Books and Yarn is a wee shop in SE Portland. Its owner, Amanda, pours a lot of love into every detail, from organization to stock to display to features, and knows her biz down to the brass tacks! (if I'm not mixing metaphors too much there)
Although I do love to mix and match my metaphors.
And also love aiming for assonance…
But back to business…
Since Amanda at Backstory had such a fun unique twist on her offerings, I wanted to offer a complementary twist for my event there (twists, spinning, yarn–get it?):
Not just a reading-and-signing, but a coming-together of community to talk about what the community knows: knitting and weaving.
My character Muirne, in The Keening, is a keen weaver. She takes it as a matter of course, as one did in 1822 Scotland, that a wife and mother would know the quickest way to clean raw wool from a neighbor's flock, the brightest dyes from nature to set color, and the best way to make a social event or a teaching lesson out of spinning and weaving chores.
So for our talk, I am inviting all the crafters to fill me on the modern equivalent of such tips and tricks. Have you ever been to a milling frolic in Nova Scotia? Have you ever visited Pendleton Mills for a tour? Have you used a drop spindle and learned the knack and timing of spinning after long, patient practice?
I bow down.
Please come on down to contribute to the conversation: Saturday, 3/25, 2-3:30. Your presence and knowledge is greatly appreciated.
Also, Scottish baking treats to be provided.
Can't miss an opportunity like that, can I!
RSVP on Facebook event page so I'll know how much to bring. 🙂
Images via Backstory Books & Yarn & my Instagram feed.