January 25 is Burns Day.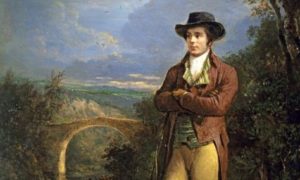 What's that, you ask?
It is the birthday of Robert Burns, widely considered to be Scotland's national poet. He lived from 1759 to 1796, leading a short life full of struggle, defiance, humility, lust, and heartbrokenness.
He wrote poems and songs, collected folk songs from across Scotland, satirized great figures of the day, wooed many a woman to his bed, and called for radical parliamentary reform when that movement was pushing forward in 1792-4.
Burns developed this radical zeal starting with his poor childhood as a tenant farming family in Ayrshire. His poor health–a heart ailment and then a rheumatic condition–no doubt came from poor living conditions as his family struggled to survive.
His best-known poem around the world is Auld Lyne Syne, which no one understands, but everyone sings anyway, in a drunken haze on New Year's Eve.
His next-most famous poem is To A Mouse, or in the lowland Scots dialect, Tae A Moose, because it is where Steinbeck took the phrase for his book, Of Mice And Men.
Two more famous folk songs trace their lineage back to Burns: Scots Wha Hae and A Man's A Man. The first was a rabble-rousing call to national pride after a Scottish popular reform leader, Thomas Muir, was transported for sedition.
(You might substitute deported for transported to bring it up-to-date)
The second song was composed a couple years later, when he could see the persecution had succeeded, and the fight for reform had to go underground. Its words are stubbornly hopeful for a brotherhood of equality:
It's comin' yet for a' that, / That Man to Man the warld o'er / Shall brithers be for a' that.
Furthermore, when the Scottish Parliament was recently reconvened for the first time since 1707, this was the song that was sung. So moving.
When Burns died in 1796, the Romantic movement took up his poems as anthems in Scotland and beyond. In the early 1800s, a curious tradition started: the Burns Supper, where people got together to remember the poet, and generally have a good time.
Each Burns Supper has its own flavor, but generally you must:
eat haggis (and Address it, to be sure!)
drink whisky
read Burns' poetry
I am lucky to be connected to a Gaelic study group here in Portland, and we are celebrating Burns' legacy as lover, fighter, champion of the poor, and speaker of Truth this weekend.
The haggis…is in the bag.
Celebrate with us and read up on this fascinating figure of Scottish history who predates The Keening by a couple decades only…
Images via Annemarielatour, JackiKellum, & Singingthesonginmyheart